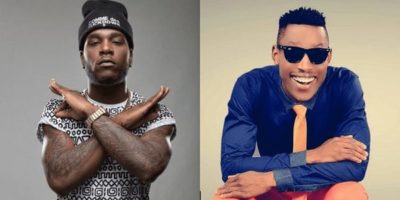 In a recent interview with Pulse NG,
Mr 2kay
gave a detailed narrative of what transpired in his hotel room on the day he was attacked by unmasked robbers who have since been linked to
Burna Boy
. Mr 2kay narrated how he was tricked to open up for the robbers and how they almost killed him and his female friend.
"…One of them with the gun then insisted that they should just waste me but luckily for me another said I like this guy and told me to be calm. They threw me on the bed and kept on hitting my right eyes over and over and over again. They came without a mask, that's to say these are the last faces you will see before you die. Then they opened the balcony and I thought they were going to throw me from the 8th floor. They asked for my phone which I showed them, then I heard a bang on the door, didn't hear any voice for almost 10 minutes. I know it was the time I screamed JESUS that saved my life."
The singer revealed that after receiving several hits, he lost consciousness for about 10 minutes before he woke up to free himself and his friend who had passed out in the toilet where she was tied. Mr 2kay further spoke about how he reported the case and how the investigation linked Burna Boy as the sponsor of the attack on him.
During the interview, the singer spoke on the ongoing police investigation. He said he is not satisfied with how the police is handling the case.
"I am not satisfied even though I believe in the police because they've done so much for this case. Even when I spoke to my boss he said he doesn't know who is responsible for this but God will expose that person because I pay my tithes and I'm a good person. I'm not really OK at the moment with the police because I believe they can do better," he said.
The singer also expressed fears that the investigation could have been compromised, citing that Burna Boy and his road manager's name did not appear on the court documents.
"You can't parade four people including Burna Boy's manager and on the court documents have his name excluded. They have not given any good reason as to why they did that. At the end, they are making us think something is fishy about this," he told Pulse.
When asked if he has conversed with Burna Boy since the investigation commenced, Mr 2kay revealed that Burna called him denying being behind the incident and at the same time apologising for what happened.
"Yes, they have tried to get across to us, speaking to people from our families back in Rivers state, people who know us, even people who haven't spoken to us in years. Burna Boy called me with a UK number. I picked the call and he said it was Burna and he said to me, apologising and denying that he was not the one, apologising, so its a bit funny. I don't feel okay with that.

"If I got a threat from you and then something happens to me like this because on your threat you said I should have the same energy that I have when I meet you or your people and in not too long after two weeks this happens and your manager was part of it, your manager was in my room. I never thought about it that way, I was so angry with the hotel people about how they can be so loose. He has spoken to me saying it didn't know it would go this far, saying it was the manager who took it upon himself," he concluded.
Burna Boy & Manager's Name Not Included In Court Documents" – Mr. 2Kay
Reviewed by
Naijademand
on
16:49
Rating: