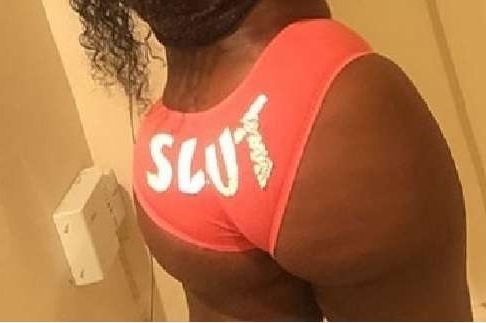 I love having s*x, and I had been having lots of fun with the usual, normal, one-on-one s*x.

The day of my first gangbang started like any other day.

At that time, I was still enjoying my nightly freakiness with my favourite uncle, but I still enjoyed some bit of fun from younger, more virile guys.

Korede was kind of like my f*ck buddy. He was so convenient because he lived really close to my house. A few short walk and I am in his apartment, ready to get f*cked silly by him.

One Friday, after classes, I went to visit him on my way home. I was a little surprised to see he had guests. Three of his friends were hanging out with him, playing video games. I had met two of them before, Banky and Abbey, but the third was unfamiliar.

Korede introduced him to me as Jason. I said hello to them and then went upstairs to hang out in Korede's room since I did not really want to intrude on the guys' time. Korede came up to join me after a few minutes.

"Hey, why don't you come down and join us," he asked me as he entered.

I looked up from my iPad and smiled at him. "Nahh, I am good here."

"Alright, just give me like 30 minutes, after they leave, I will come back and we will have our fun," he said. "I will get you something to drink."

He went out and came back later with a bottle of red wine and some biscuits, then left to go be with his buddies.

I really did not mind. I ignored the biscuits and went for the wine. I was fiddling on my iPad and relaxing with the wine for almost an hour. I wondered how long it would take Korede to come join me.

The thing is, alcohol always made me horny. The more I drank, the hotter I got. Korede knew this and almost always plagued me with alcohol anytime I visited.

It was, therefore, no wonder that I was already getting wet and feeling tipsy as I sat on Korede's bed. I laid and began to rub my body through my clothes, waiting for him to come join me. The longer he took, the hornier I became.

I decided to make things easier. So I took off my clothes in hopes that as soon as he entered, he will just f*ck me without much fuss. I really was that aroused.

I thought getting n*ked was a good and s*xy idea until I started to feel the silky sheets rub against my ass as I lay waiting. My own n*ked body was turning me on.

It would have been so easy to just reach down and stroke my waiting and wet p*ssy. I decided to compromise and play with my boobs instead. I rubbed them and teased my nipples until they got hard. When I could not take any more teasing, I put my hand down and slid my index finger into my wet p*ssy.

It went in so smoothly because I was already dripping. I was so taken over that I did not even notice when Korede entered the room.

"What... Why didn't you wait for me?" He said quietly as he walked closer to me.

"Hmmm... I was just so horny, baby," I said as I continued to insert my finger in and out. "Are your friends gone?"

"Not yet," he replied, as he came to join me in bed. "I am just about to see them off, wanted to inform you."
As he sat on the bed, I pulled him down for a kiss. My p*ssy was literally hot for f*cking now.

"F*ck me, baby... hmmm... I cannot wait any longer," I moaned in his ear.

"My buddies are waiting, sweetie. Just give me a second."

I ignored him and we kept kissing. "I am so turned on, I don't think one dick will be enough to f*ck me right now."

He laughed softly, "What, you want to get f*cked by the vibrator too?"

"Well... why go for the vibrator when you have 3 live dicks downstairs?" I asked. I was not sure where that came from. Alcohol made me extra slutty.

Korede pulled away from me in shock. "Are you serious?"

"Hmm... if you think this will be something your friends are into..." I began when he interrupted me.

"Into? Believe me, we talk about this all the time. Incidentally, my friends think you are really hot. If I invited them, they would be more than happy," he said.

"And damn, I am already hard imagining you being fucked by multiple cocks."

I gave him a sultry smile, laid back on the bed and said to him, "Invite them up then, let's have a good time."

I could clearly see his bulging cock as he walked quickly out of the room to get me some more dicks.

I laid on Korede's bed quietly, waiting for him to return with my presents. I really hoped his friends will be interested in having a good time.

I stroked my body as I waited, enjoying the feel of my palms on my perky boobs and erect nipples. I slid my hands over my flat tummy and rested them on my bald p*ssy.

I had an excited smile on my face and felt butterflies in my tummy. I imagined how it'd feel to have these guys pamper me and stretch me out. I could only imagine though, as I was getting ready for my first ever gangbang.

Korede entered the room first. He kissed my lips and sat on the bed beside me. For one split second, I thought the guys were not coming, but then I saw Banky, Abbey and Jason walk in.

They had removed their shirts and I enjoyed a few seconds of admiring their bodies. Jason came in with a bottle of Jack Daniels whiskey and a couple of shot glasses. The two guys joined Korede on the bed while Jason stood, pouring the drink into the glasses and passing it round.

Korede got out his phone to play a song. I never heard it before, it sounded like it was from a rock band. He increased the volume to the highest until it was all we could hear.

Jason was the first to make a move. He came over, gave me a deep kiss and joined us in bed. The guys were all slim built but Jason was the skinniest. He also had this rugged air around him like he played by his own rules.

Korede got off the bed and sat on a chair opposite it, sipping his drink and watching my naked body on the bed as I lay between three shirtless guys.

Banky made the next move. He started to stroke my leg slowly. Abbey gave me my next kiss, hmmm, he was certainly the better kisser. He thrust his tongue deep into my mouth in a possessive, s*xy way.

As we kissed, I felt a hand on my boobs. Jason was rubbing me up and exciting my body with his hands. Damn, I was getting hornier as I got more attention.

Banky continued to stroke me until he reached my upper thigh. He spread my legs apart and began to tease the outer part of my p*ssy. I moaned into Abbey's mouth and closed my eyes to completely focus on the beautiful feelings.

I soon heard the sound of a trouser zip being undone. Jason had taken his hands off my boob and was taking off his trousers. I opened my eyes just as Abbey stopped kissing me, and watched Jason get n*ked. He unleashed a big, hard dick that surprised me.

His skinny frame was very deceptive, because this dude was packing one of the biggest dicks I had ever seen. I smiled at him, he smiled back and came closer.

I opened my mouth in waiting as he began to f*ck my mouth. Abbey and Banky also got naked while this was going on. Jason had straddled my face and began to slip his big dick in and out of my mouth.

It was so hard keeping my lips around it because it was so huge, that I just had my mouth open and let him enter. I was so focused on what Jason was doing that I was a little startled when I felt something in my pussy.

It was Abbey's fingers. He was doing some crazy magic down there that I was finding it difficult to lie still. I moaned on Jason's cock in my mouth and felt myself being carried away.

"I want to f*ck you in the ass," Jason whispered in my ears. I nodded in compliance and the boys got off me.

Banky was now the one laying down on his back. He was stroking his cock and waiting to be straddled. I got down on him on my hands and knees so I can give Jason access to my asshole at the same time.

Abbey kneeled by Banky's side and faced his own dick towards my mouth for some sweet sucking. I was grinding against Banky's cock and bouncing on it, enjoying myself when I felt Jason grab a hold of my ass from behind.

I stayed perfectly still as he slowly slipped into my asshole, at which point I gave a very loud moan. It felt so incredible having a dick in my pussy and ass at the same time. To shut me up, Abbey grabbed my head and made me take his cock in my mouth.

I was doing so many things at once and I was being pleasured by such beautiful and strong men. I grinding against Banky while Jason thrusted deeply and sexily into my asshole.

Abbey grabbed my head and made sure I took his whole cock in my mouth. I gagged and slobbered all over his dick while also trying to focus on the two dicks riding me, one underneath and one behind.

The most overwhelming feeling was Jason's large cock invading my tight asshole. With his thrust, I felt like I was being split in two.

The pleasurable pain he was inflicting combined with the sexy feeling I was enjoying as I f*cked Banky honestly almost made me pass out.

Banky was the sweetest. He teased and stroked my nipples to heighten my pleasure as I fucked him. Abbey on the other hand, made sure I felt his dick deep in my throat.

I noticed Abbey grabbed my hair very hard and his thrusts became so much faster and I knew I was about to swallow some juicy cum.

I stilled my body, put both my hands around Abbey's dick and sucked him until the juices came flowing. He shot his cum straight into my throat. I made sure to lick them all up and swallow. The sight of me swallowing Abbey's cum like some cum-hungry slut must have excited Jason because he soon grabbed my ass extra tight and thrusted so deep I screamed.

I screamed and screamed and begged him to slow down. He finally took out his dick, came to my side, grabbed my hair and began to f*ck my mouth. I closed my eyes as he shut his own cum in my mouth. I tasted him and also tasted my asshole as he made me suck on all his juices as I did for Abbey.

When I was done, Banky grabbed my ass and made me bounce harder on his dick. By this time, I was so dazed by all the fucking that I did not know which way was up. All the alcohol was getting to me.

Everything was blurry but I made sure I fucked this last dick with all I had left. Finally, he held me still and shot his cum straight into me. I felt like was about to faint. I felt someone lift me and laid me on the bed.

In the blurry haze, I saw Korede on the chair, hands on his own dick, watching me intently and squirting his own cum everywhere.

It was the last thing I remembered.

Credits: Hot Pulse
How I was Bang3d by 3 Hot Guys - Young Lady Shares 3rotic Story
Reviewed by
Naijademand
on
18:29
Rating: