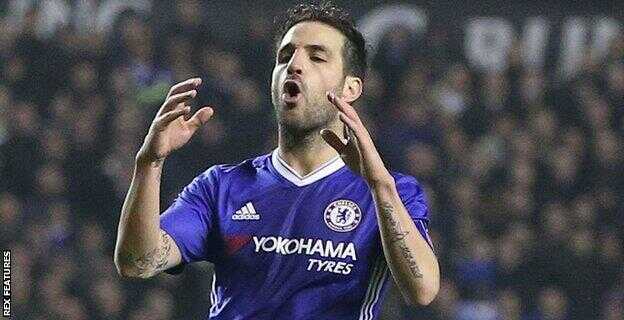 Chelsea midfielder, Cesc Fabregas, has admitted that he used to be so upset about sitting on the bench that he told people not to talk to him.
However, with time, he has learnt to put the team first.
Fabregas became the first Spaniard to make 300 appearances in the Premier League on Saturday, as the Blues beat Swansea 3-1.
It was only his sixth start this season, with another 11 appearances coming off the bench.
"In the beginning, when I didn't play, I told people to not even speak to me because I was really upset," Fabregas told UK newspapers.
"But now that changes with time, age, maturity and experience, which all help you to understand that the most important thing is always the team.
"Don't get me wrong: I want to play. But sometimes you have to fight for it."
Fabregas, who has been linked with a move away from Stamford Bridge, also insisted he wanted to stay for a long time.
"For sure, it's Chelsea I'm thinking about," he continued.
"Until the day Chelsea tell me they don't want me, I can leave, and it happens to everyone, then you have to move on.
"When my brain says you can't do it anymore then I will move, probably away from Europe. But for now, it's all about Chelsea and performing here."
'Why I Am Not Angry With Conte Over Bench Role'- Chelsea Midfielder Fabregas Reveals
Reviewed by
Naijademand
on
07:31
Rating: