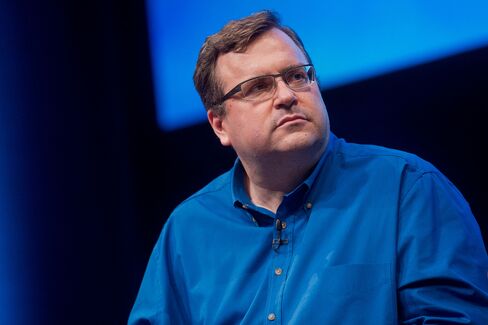 LinkedIn co-founder Reid Hoffman is the latest Silicon Valley heavyweight to get his money involved in politics. He's offering to donate as much as $5 million to veterans if Republican nominee Donald Trump releases his tax returns in time for the final presidential debate.
Hoffman, who is chairman of LinkedIn Corp. and a partner at venture capital firm Greylock Partners, saw a crowdfunding challenge by a 26-year-old Marine Corps veteran, Pete Kiernan, who said he would donate any of the money raised to nonprofits that assist veterans if Trump releases his returns by Oct. 19, the date of the final debate. If Kiernan meets or beats his $25,000 target, Hoffman will match the total amount by five times, up to $5 million, he said in a
post
on Medium.
"There's no real reason that Trump is keeping his returns secret, except that he sees them as a bargaining chip to utilize," Hoffman wrote. "As Trump skirts his obligation to the American people, we must show him that we do value accountability and transparency."
Hoffman didn't say which candidate he supports, but appealed to Trump's claims as a supporter of veterans. His pledge comes a few days after Facebook Inc. co-founder Dustin Moskovitz said he would commit $20 million to helping Democrats in the election, including presidential nominee Hillary Clinton. Moskovitz said it was his first open endorsement and donation to a candidate for president. We hope these efforts make it a little more likely that Secretary Clinton is able to pursue the agenda she's outlined, and serve as a signal to the Republican Party that by running this kind of campaign -- one built on fear and hostility -- and supporting this kind of candidate, they compel people to act in response," Moskovitz said, also in a
post on Medium
.
In July, more than 100 technology leaders signed a letter naming Trump a "disaster for innovation." Twitter Inc. co-founder Ev Williams, Box Inc. Chief Executive Officer Aaron Levie and venture capitalist Vinod Khosla were among those endorsing the letter, which said Trump's views on immigration, internet security and
government investment
would stifle the technology industry and divide the nation. Facebook board member Peter Thiel is one of the few Silicon Valley leaders to have publicly supported Trump so far.Facebook Chief Operating Officer Sheryl Sandberg and Tesla and SpaceX co-founder Elon Musk are also among supporters of Clinton in Silicon Valley. In his post, Moskovitz hinted that others may become vocal. "We are not the only ones being activated so strongly during this election."
LinkedIn's Hoffman Offers $5 Million for Trump's Tax Returns
Reviewed by
Unknown
on
02:13
Rating: